Hello!  A little different from usual, I'm typing this post from an Alpaca farm near Lake Windermere.  Honest!  And the Wifi is a little ropey, thus my reflections on OWOP are a little late.  And, extra honest – getting ready for the holiday took over last week, so I only have pictures for 4 of the 7 days… but I did faithfully wear my Simplicity 2588 creations (while grinding my teeth in frustration that I seem to have lost my purple Sew Grateful skirt…)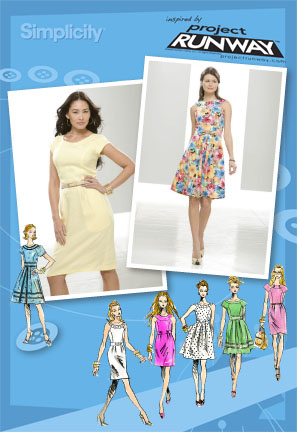 My blue roses skirt (using the 'flared skirt' part of the pattern) took centre stage, worn on four days.  Here's Sunday and Wednesday:
And my Cheryl-Cole-Chevron skirt (using the 'Slim skirt' pattern) came out twice.  Here's Saturday's outfit:
But the most successful OWOP day by far was Tuesday, the one-off outing of my Apple dress.  Almost everyone I met commented on it – from a colleague who said it looked like an Orla Kiely (I copied it from Orla Kiely! I whispered excitedly in the meeting) to the man in the corner shop who asked for an apple (but not in a creepy way).  I chickened out of asking one of them to photograph it though, so this is the best I could do by myself:
I paired it with a thrifted jacket I found for £5 in a charity shop:
(Ok, so the prints don't really match, but I felt I could carry it off with a 'hey, I've deliberately clashed some prints together' rebellious shrug. No-one pointed or shouted anyway.)
Thanks again Tilly for organising OWOP – it forced me to wear this dress to work, and I actually liked it!  It was nice to have a bit of back-up when people said "ooh, don't you look nice" with surprise… I could explain about the challenge, and blogging and making my own clothes.  But now I've had that little push, a lot more dresses are going to feature in my work wardrobe from now on: I just felt well-dressed, pardon the pun.  And yes, that means plenty more outings for Simplicity 2588.